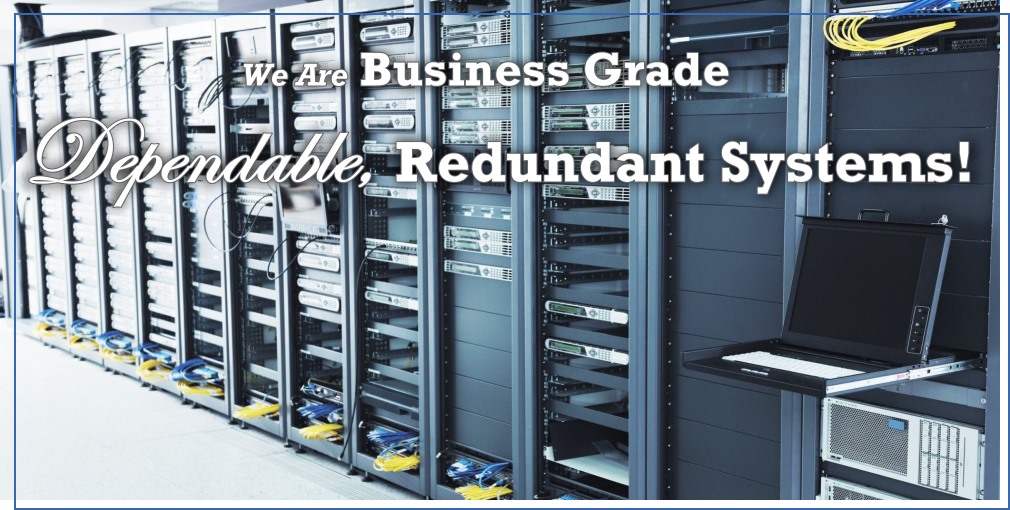 Everything from the design and security of the data center to the network, power and cooling infrastructure we utilize was carefully planned with full redundancy in mind, providing our customers the highest quality experience.
Providing the highest quality Internet connectivity and performance is our top priority. Our selected Tier-1 bandwidth providers ensure minimal latency and fast connections to all points of the global internet. We are proud to feature direct connectivity with Cogent, Level3, Verizon, and Comcast. Our aggregate connectivity reaches an astounding 8,500* plus networks that are just a single network away from the site's uplinks. Besides being designed to accommodate clients demanding the highest quality network performance, there is also a central focus on redundancy allowing our network to rapidly self-heal failures even in the event of a fiber cut without interruptions to connectivity.
Direct connectivity with multiple

Tier-1 backbone providers

Redundant Fiber Entrance Expandable to 1,840 Gigabits Per Second*

Fully Redundant Cisco 6509 Sup720 and Nexus 7000 Distribution Switches*

Redundant 10Gigabit Ethernet Links to Each Rack Switch*

Cisco 4948 48-Port 10/100/1000 Rack Switches*
---
Business Grade Dedicated Server
Our Professional Dedicated Servers have the latest hardware and software to ensure your data gets to you and your customers safely and quickly. With many layers of security software (including but not limited to ModSecurity, cPHulk, CSF, LFD, CXS, and SpamAssassin), high-performance solid state drives in RAID1 configurations, and dedicated backup drives keeping snapshots AND 6 daily, 3 weekly, and 2 monthly FULL backups, so ALL of your data is safe in both storage and transit. Our skilled tech team constantly monitors security and performance as well as optimizes every aspect of our server's configuration to ensure a flawless experience for our clients. One of our physical "bare-metal" servers:

Managed DEDICATED Professional Server

Linux 64bit Server Operating System

24 Cores/48 threads* for Ultimate Multitasking


256GB* Fast ECC RAM

High Speed Mirrored Solid State Drives and Dedicated Backup Drives

10Gb Port

Multiple Layers of Security Software


HUNDREDS of Included Software Packages from Blogs to Wikis

24/7/365 Monitoring
---
Specialized electronic security systems control access to the data center and are accompanied by a full complement of motion detecting security cameras which monitors the entire facility at all times. Our data center's external walls are reinforced poured concrete and the building and grounds are patrolled regularly by an on-site security officer, our fully managed facilities have highly trained technicians on-site 24 hours a day, providing an incredibly fast incident response time.
24/7/365 Manned Facilities

CCTV Security Cameras Covering Inside, Outside and All Entrances of Data Center

Site Entrances Controlled By Electronic Perimeter Access Card System

Site Remotely Monitored By 3rd Party Security Company

Entrances Secured by Mantraps with Interlocking Doors

SSAE-16 & HIPAA Compliant, Safe Harbor Certified
* Hardware stats are at time of writing. These numbers change with each upgrade we make to stay on the cutting edge of performance and reliability for our customers.